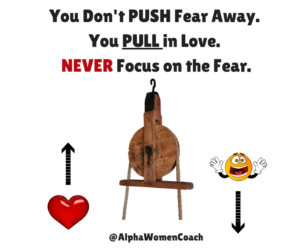 1 Thing You DON'T Know About FEAR…(but you should)

You can't reduce FEAR. I'm sorry. Most of us think that you can "turn the knob" down on a fear, much like you'd lower the volume on the car radio.

We think there are things we can do, or say, or places we can "be" that will turn down the fear. Lessen it. It cannot be done directly.

There is no way to PUSH down a fear. When you push against it, energetically it RESISTS you and grows stronger. You can only pull in love.

This is an attraction based universe, which means you can't really push anything away. The one activity you CAN do is to pull things.

If something is on a pulley, you pull down and it goes up – that's a good image for this.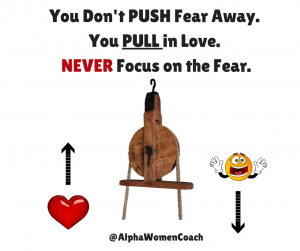 When you pull down on the pulley of fear, what really happens is love is coming up!

Practical Application: When something is not working, focus on what can make it better instead of what can stop it from getting worse.

Example: An Alpha fighting with her husband in a shaky marriage. He just said something horrible to you. Again.

If you really want to save this marriage, which of these is the correct focus:

A)   What could make this situation better right now? What can make me feel better right now?                                vs.

B)    What do I need to DO to keep him from saying that dumb $#@! to me again?

A is the winner. It pulls in love with you and is about you.

Example: Your child is scared of the boogie man in the dark. You cannot reason away this fear, i.e., you cannot reduce the fear, turn down the knob or push their fear away. 

What do you do? As a mom you know the answer, you pull in love. You love them up to increase their feeling of security and protection.

You are that little child when things get really bad. When things hit the fan, find a way to pull in some love. 

The Bible says perfect love casts out fear. They are like light and dark, matter and antimatter and cannot occupy the same space. If fear is present, you cannot push it out unless you bring some love in.

Need another example? Guilt and forgiveness. Guilt is a form of fear and forgiveness is a form of love. If you want to lessen guilt, you need to increase the forgiveness. Have you ever just been able to stop feeling guilty??

This lesson applies year-round, for your entire life, but it's especially important for the holidays. You'll see fear masquerading as guilt, stress, excess, withdrawal, frustration and blaming.

Do not attack the fear (or your mother-in-law) and attempt to "solve it" Alpha. Turn UP the love in the situation. Sometimes you can do that directly WITH the person that's the issue or sometimes just making the environment better will help. 

As we approach our respective holidays (my trifecta is Thanksgiving, Christmas and New Year's Eve) just remember that pulling in love is more reliable than trying to fix the crazy family.

---

P.S.Why am I talking about serious stuff and not giving you my Guilt-Free Dark Chocolate Avocado Cookie recipe? 1 – no one ASKED for my recipe! And 2 – Like I said in Wednesday's post the holidays are not ALL love and light.
I struggled through them for years and every freaking article I read about how 'Richard Simmons happy' I should be, made me feel WORSE! So, the support is here. I love you!
P.P.S. Got $17? Save it! I am not immune to Black Friday. We WILL have a cool Black Friday Deal. And, unlike the rest of the damn Universe, it will come out ON Black Friday 😊 You'll have 72 hours to grab it up before it goes.

I Show Alph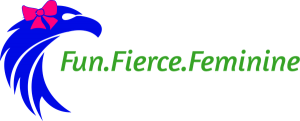 a Women Entrepreneurs How to Stop Struggling in Your Relationships, Own Your Potential, Build Your Business and BALANCE IT ALL.
---
[Confidence] 1 Thing You DON'T Know About Fear…(but you should)