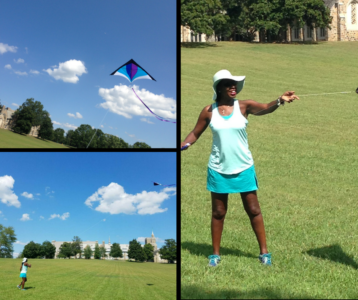 Last year I used my birthday to teach you about microtrips and mini-adventures. So many of you don't have extra joy in your life because you are "saving" it all up to get it from some HUGE thing.

Alpha, life is 85% small wins 🙂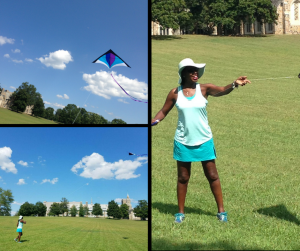 This year my best friend learned that I had never flown a kite! I think she was flabbergasted. The woman actually owns a designated and LABELED "Kites bag" in her garage. (Legacy of being a single mom to 3 children I think…)

So after grilling me a monster steak and veggies she gave me a beautiful Kite! She'd scouted out God's most perfect kite flying location at Berry College in Rome, GA an hour and half away.

When was the last time you let yourself grin like a child, clap your hands in glee and jump up and down in excitement? It's GOOD for you.

And before you ask, yes, I sang the Mary Poppins "Let's Go Fly A Kite" song at least 4 times.

My kite is named Slyvester and he is awesome. Light and agile, he flew on the slightest breeze.​​​​​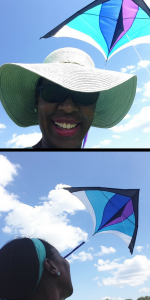 He even posed so I could get this selfie (my first Kite Flying Selfies!)

As we get older, we realize joy is in the experience – not the gift, not the money. It's the time and the memory and the love wrapped around something you did.

Start giving whoever you love experiences. Oh, that includes YOU.

What new, novel or silly experience can you give yourself this month?

We wrapped up our day by hitting an Antiques Auction in the middle of nowhere. I LOVE THEM! I bought things that match my new Industrial metal and wood décor. My newest "old" find?

1939 RCA Victor K50 Radio. Sold brand new for $44.50 -that's $789.89 in today's money. Remember, a great radio WAS the family big screen tv!!

My price? $20!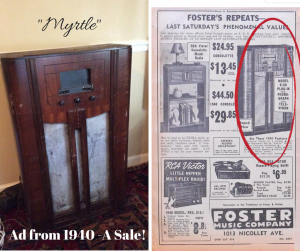 My radio introduced electronic tuning. You know how you push a button and your station pops on? That was born with my radio! 5 of her (she has been christened "Myrtle") buttons are gone but 3 knobs are there. And I will find her pieces.

Now for the cool part. Myrtle is just shy of 80 years old. I felt a odd urge to bid on her just to get her case and my heart whispered "we could probably learn to repair her." After buying, I saw all her glass resistors and tubes looked intact.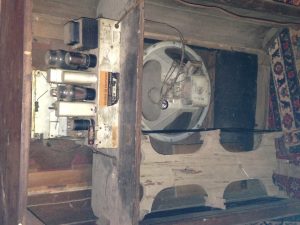 Her high end features? You could play records OR television through her auxiliary port (think HDMI ports in TV's folks) AND she has an advanced internal loop antennae (bottom left).

Myrtle WORKS! Plugged in, light came on and turned a knob and got to sing along with "Starving". 

80 years, no back, no bottom, all dust, moved how many times to find her way to my new living room?!?

The joy of the moment that I heard NEW music coming out of a Pre-World War II radio! 

A radio that was created decades before Civil Rights got momentum and only 31 years after the first Ford Model T. In 1939 a brand new nice car was about $700.

And she works. Myrtle's HOME.

Follow your heart Alphas. It leads the most amazing places…

P.S.

 Joy flows from the inside OUT. Create a channel for yours to reach the surface! I've discovered that building furniture is my "art". I never knew what my art was before and know I've found it in my 40's! It taps me into my JOY.
---
​​​​​

​​​​I Show Alph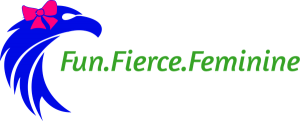 a Women Entrepreneurs How to Stop Struggling in Your Relationships, Own Your Potential, Build Your Business and BALANCE IT ALL.
---