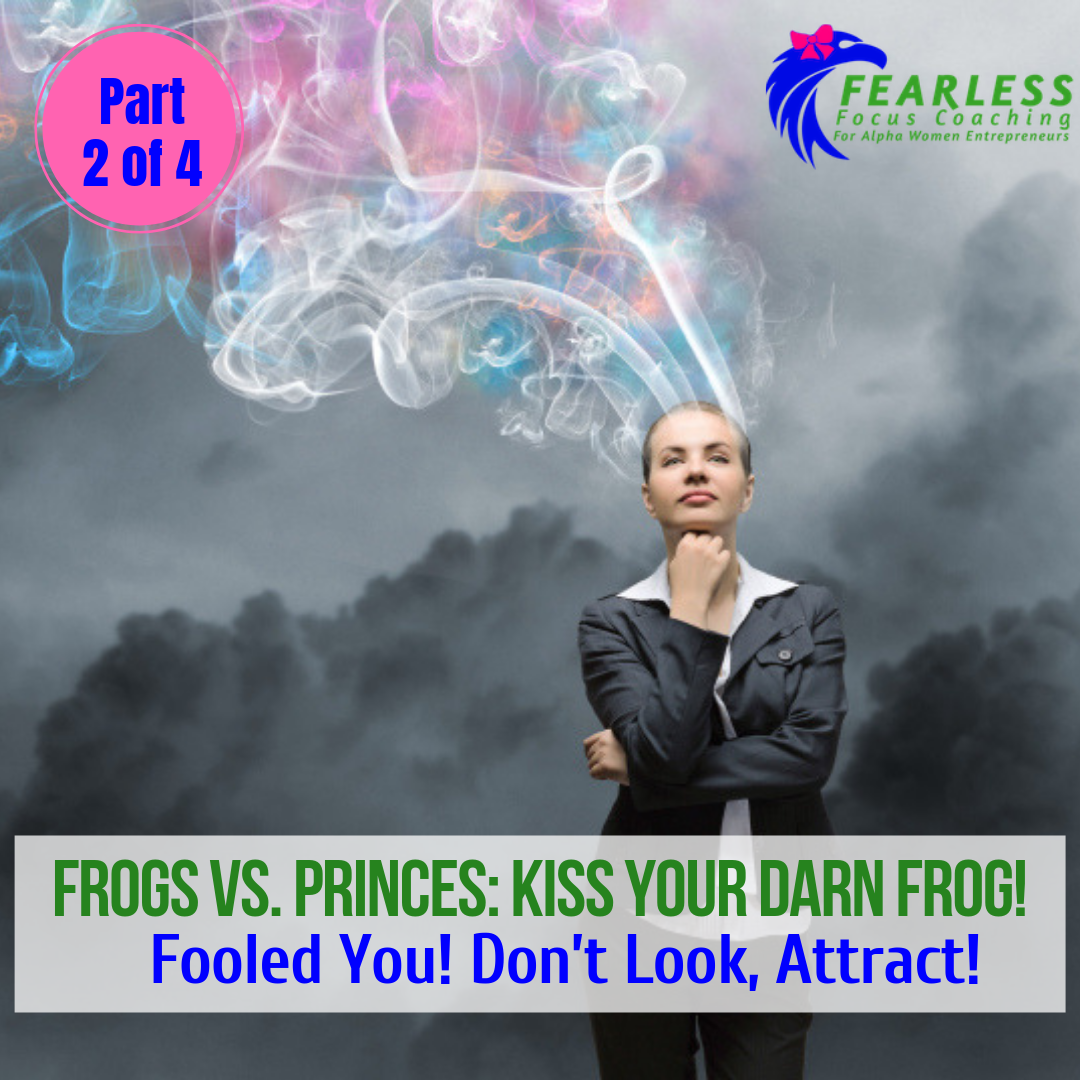 [Alphas] Frogs vs. Princes: Kiss Your Darn Frog! Chapter 2 of 4

People actually contacted me and asked me where I found my soulmate. If I answer them accurately the answer would be-from inside of me! 
There is NO WHERE! 
Your Prince is nowhere to be found. 
You have to make YOURSELF findable. If you ONLY get that and aren't MAD about it, you can stop reading as you are all good. 
Catch up here with last week's blog – Frogs vs. Princes Chapter 1 of 4
Remember a P.R.I.N.C.E. is a
Perfect Relationship or Investment Not Common Everywhere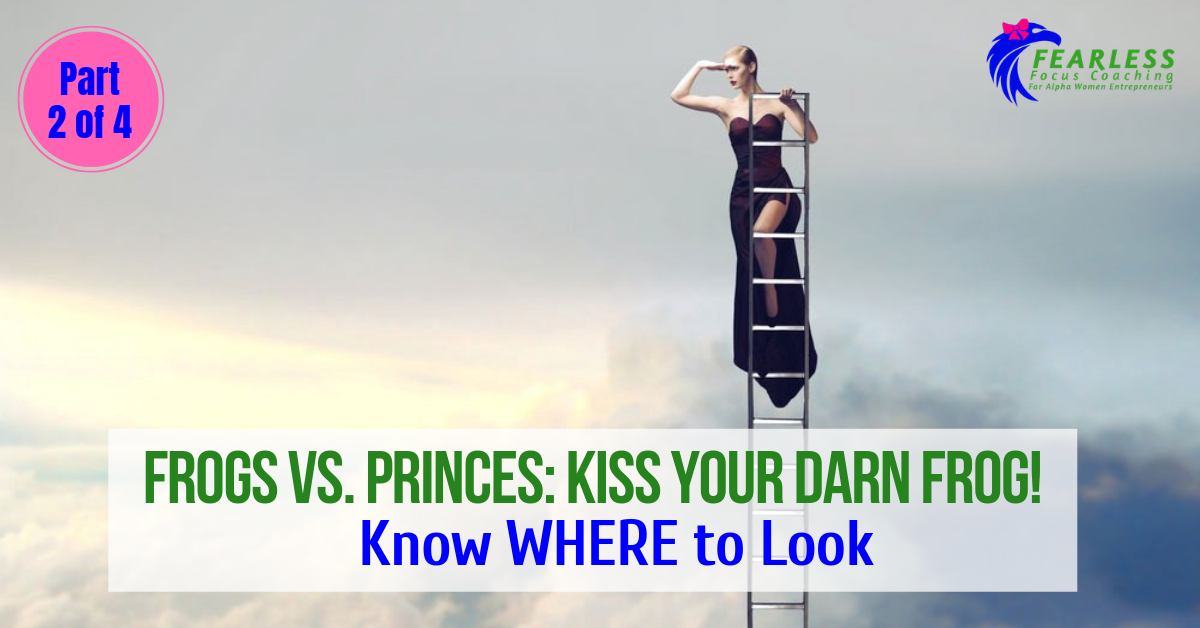 ---
Know WHO You Want
"Oh the Joys Problems of Looking!"
"Tanya, are you staying I should STOP looking?!?"
YES.
"Ok (Not ok.) How will I find him?"
When the Princess is ready, the P.R.I.N.C.E. appears.
Parable time: When the student is ready the teacher appears. An ancient saying that has survived because of its truth.
When the Princess is ready, the P.R.I.N.C.E. appears.
Here is what you get if you keep looking (hunting) your fantastic opportunity:
1) When you are looking for something, it is because you do not have it right now. That's your energy and your point of attraction and focus are on the "not having it "more than the having it. That tends to make it not appear.
2) When you've been looking for something for a very long time, you get stressed and anxious and discouraged. Sometimes you can get angry and bitter resentful and jealous. None of these is an attractive energy to get what you really want. And in fact, repels opportunities that come anywhere near you.
3) When you are looking for something, it presupposes that you are already "qualified quote to receive whatever it is you're looking for!This is usually not the case. We are usually looking for something that is "ahead" of us. And hoping that this magical situation improves us. Please remember that Cinderella was not improved as a person, they just changed her clothes and her shoes! She was ALREADY more of a princess than any of the other women around.
4) When you're looking for something you, have a strong bias toward what HE (or it) should look like. Meaning, if the Universe wants to send you your prince in his current frog version, you WILL miss him.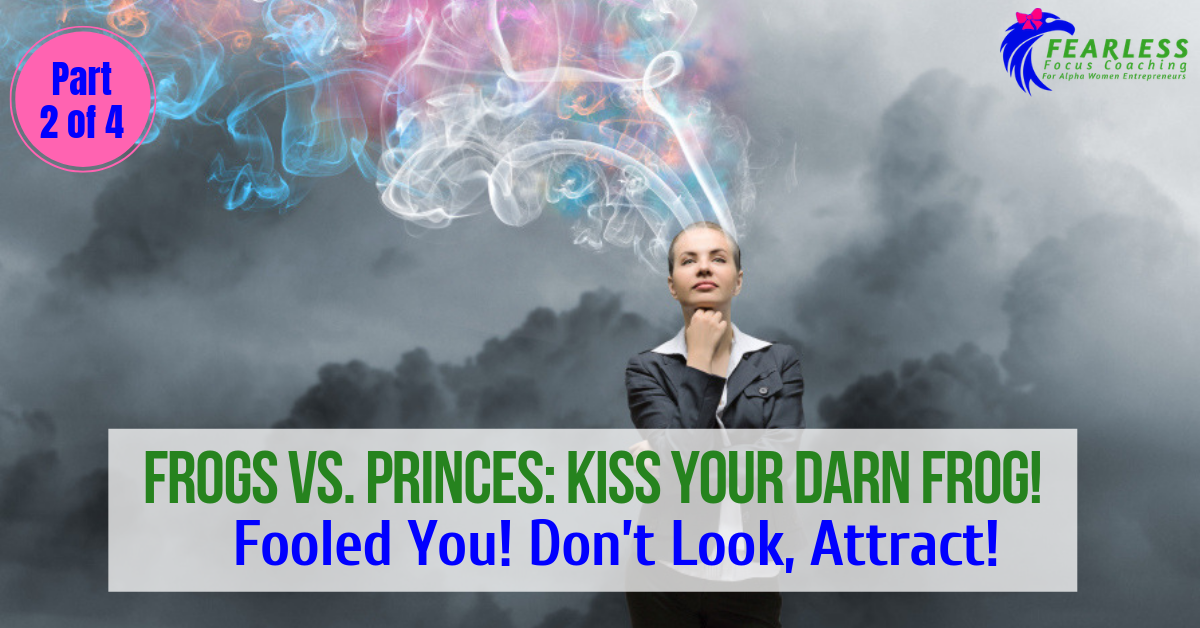 ---
Not Searching is TRUST
Everyone wants a prince and nobody wants a frog. But now you understand that relationships are meant to grow you both. That means you're both changed together. And most of the situations I have personally experienced, including my own, the prince didn't look like a prince right from the start.
That meant, if you're looking you won't spot him. If you permit yourself to be found and then trust your intuition… Now that could be the start of a happily ever after.
For this week, focus on you. Lose the weight you want to lose. Fix the credit you want to fix. Write the book you want to write. Get over the X you haven't gotten over. Whatever it is that you keep telling yourself that you need to get done-do. That. Now.
Make yourself into a ready princess. Remember my teaching about the coming purse ready? That's what this is. Make yourself purse ready so that when your frog who will become your prince finds you, you have less to do and can roll with something a little scary more easily.

---
P.S  I cannot tell you the freedom I experienced when I STOPPED looking. I remember my good friend telling me how she'd enter every business conference and scope the room for "possibles" and "competition". Exhausting. 
Can you still have an active online dating profile and not be looking? Yep. I've done that in my past. The not looking is an energy IN you that says, "I'm good with myself right now. I'm not MISSING something." 
P.P.S. For those keeping track, this is the last blog before I marry MY P.R.I.N.C.E. this Saturday May 11th in South Australia. My actual fairy tale dream come true! I'm still very busy but I am getting covered in waves of the magic now! You CAN have want you want Alphas. Ask me. Only I'll answer in June, because I'm not doing anything other than playing in Bali the rest of the month after my Big Day 🙂

Tanya Stewart is "The Alpha Woman Coach" and began coaching strong women as a Divorce lawyer in her own high conflict law firm 20 years ago. She understands how Alpha women are wired and using her Master's level Metaphysics background and Advanced Clinical Certification in Hypnotherapy, she brings rapid change to people she works with. 
She is a speaker, published author and Mensa member whose coaching is recommended by the World-Famous Motivator, Les Brown, Best-Selling Love Coach Greg Baer and International Change Expert, Dr. Eldon Taylor. She can teach you to separate struggle from success. 
ALL My videos are always on my Vimeo channel HERE 
Find Even More on the Resources page of the website: 
www.FearlessFocusCoaching.com/Resources
[Alphas] Frogs vs. Princes: Kiss Your Darn Frog! Chapter 2 of 4