[Blocks] The 4 "Exs" Ruining Your Life! 1 of 4 Ex________

Let's Get You OUT of EX Energy!
We are starting our "Ex Energy" 4 part series today 🙂
It's time for us to have a discussion that no one else is having – we're gonna talk about you and Ex Energy. And to clear this up from the start, I am not talking about you and your ex-husband!
I am talking about your relationship with Exceptions, Excuses, Extensions and Explanations. Because all these exes are ruining your life.
To have an Alpha Life – where you find happiness, feel loved and make money with less struggle – you have to start changing your ways around your Ex Energy.
Will work through this this month one "Ex" at a time learning –
What you were doing

The harm it causes

What it attracts energetically, and finally

What you get when you stop.

Let's start with Exceptions!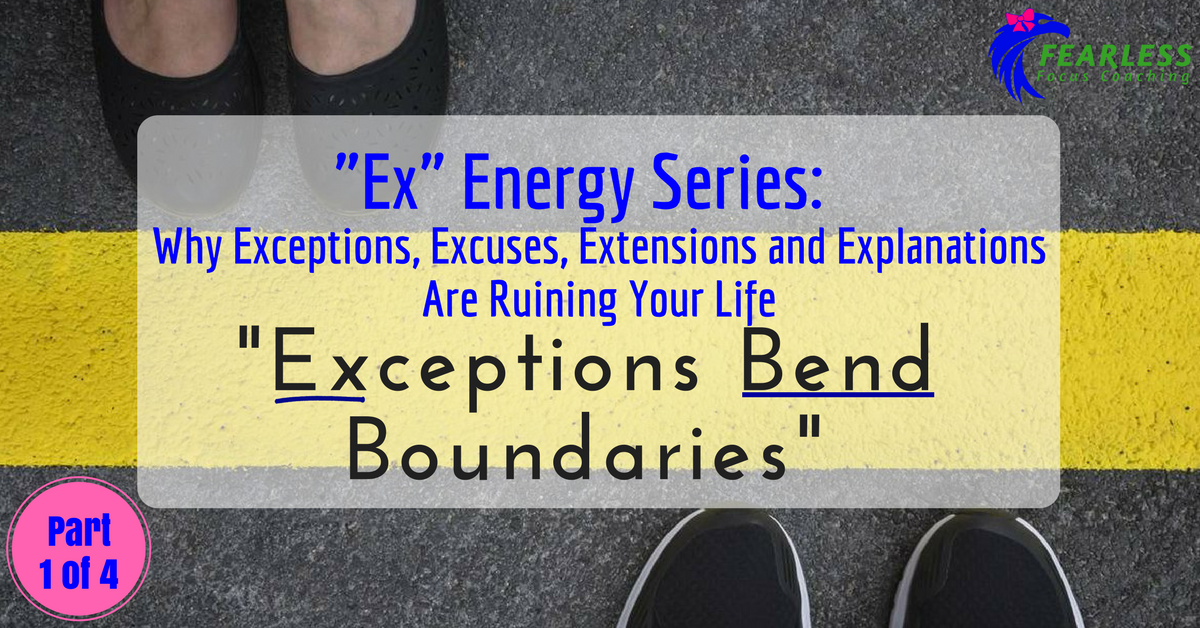 Exceptions Reduce Reliability
What You Are Doing: Someone comes to you, they knew the deadline and now they're asking you to make an exception and you do it (or it's you doing the asking!).
Harm It Causes: Loss of Respect.
You don't respect your limits and you don't respect other people's limits.
What It Attracts Energetically: Pushy People.
People who push past your boundaries. People who don't respect your feelings. People who think the rules don't apply. Jobs and colleagues who ask way too much of you.
What You Get When You Stop: Respect.
Respect from others and respect for yourself in the form of self-worth.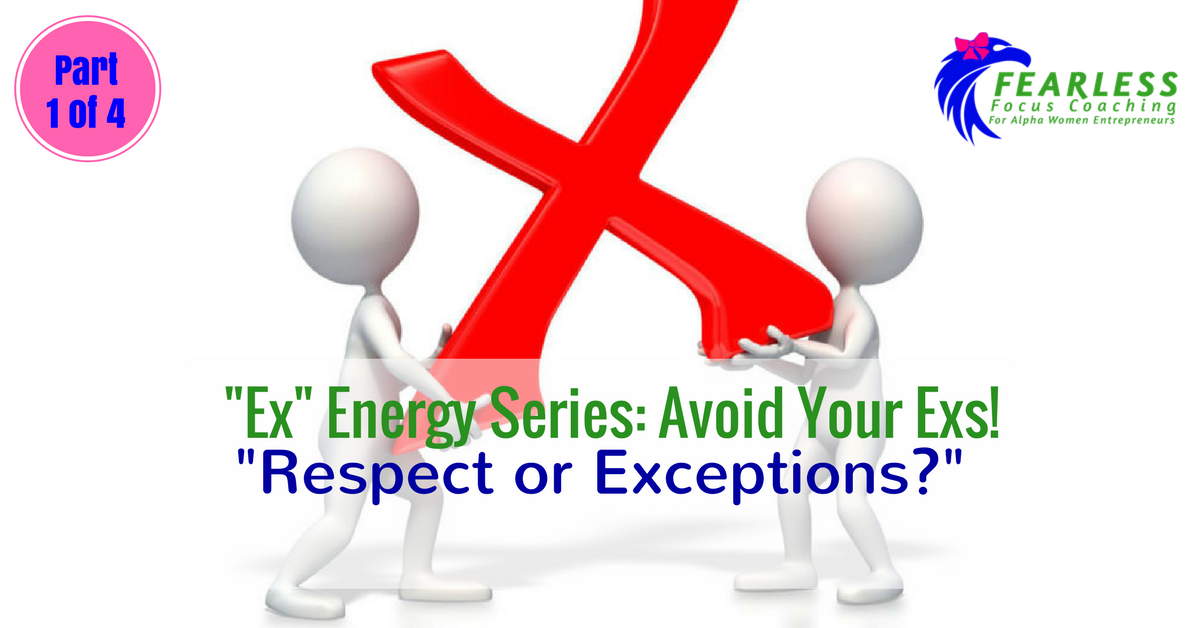 No matter how far back you go in time – you find that eventually people had to erect some type of visible boundary to keep other people from encroaching on their "land" and taking their stuff. Without a clear boundary, many people feel almost invited to help themselves when they are in need.
Alpha, it is loving to have boundaries for other people. It is loving to have boundaries for yourself. Where those boundaries need to be depends on where the greatest areas of transgression or encroachment are in your life.
If you're not very good at moderating your alcohol intake and drink till you wobble with an open bar and designated driver – you might want to consider a boundary there. Be wary of your tendency to make exceptions for yourself and others because enough exceptions eviscerate the rule.
Spiritually, when you are continually letting people through a gap in your fence the Universe will come help you. It will help you, by sending more cows!
The more cattle that come through that opening, the more trampled your fence gets and eventually you don't HAVE a fence anymore. Hint.
Source is trying to get you to notice that you need to repair your fences!
Get yourself out of this Ex Energy and spend the rest of this week noticing where you make and ask for exceptions and then… Stop it!
In Joy,

---
P.S. Are there good Exceptions? Trick question. A good exception is one that isn't permitted so often that there is a worn path to that spot. A good exception is based on LOVE and not fear. And it is NOT loving to enable those we care about because we are afraid they can't toe a line that they SHOULD. Capish?
Hop on FB and watch this discussion live this Friday at 11am EST – FB – Tanya Stewart, Esq.

Tanya Stewart is "The Alpha Woman Coach" and began coaching strong women as a Divorce lawyer in her own high conflict law firm 20 years ago. She understands how Alpha women are wired and using her Master's level Metaphysics background and Advanced Clinical Certification in Hypnotherapy, she brings rapid change to people she works with. 
She is a speaker, published author and Mensa member whose coaching is recommended by the World-Famous Motivator, Les Brown, Best-Selling Love Coach Greg Baer and International Change Expert, Dr. Eldon Taylor. She can teach you to separate struggle from success. 
ALL My videos are always on my Vimeo channel HERE 
Find Even More on the Resources page of the website: 
www.FearlessFocusCoaching.com/Resources