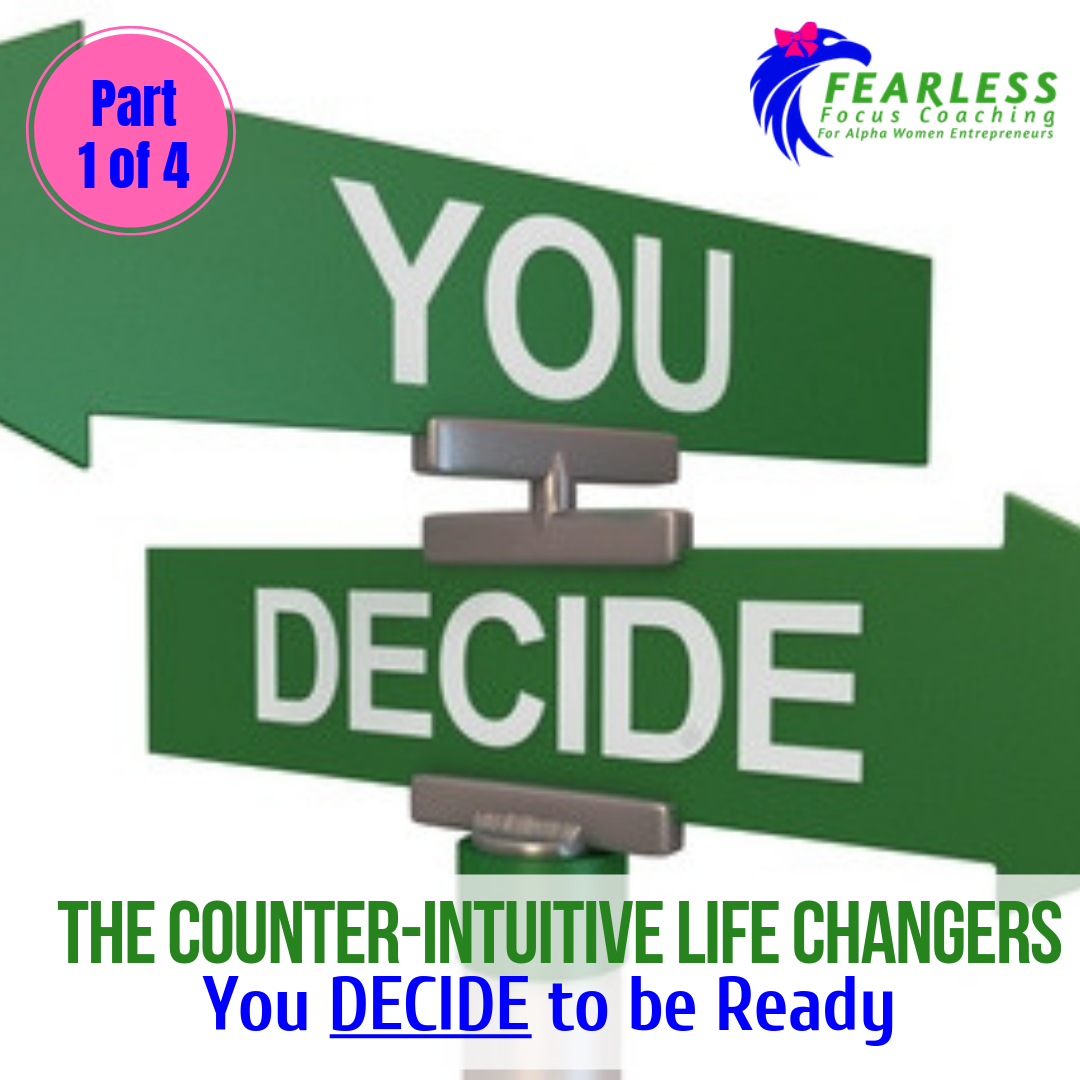 [Clarity] Counter-Intuitive Life Changer #1: Screw Ready!

Counter-Intuitive Life Changer
This month will be exciting! I'm going to call B.S. on 4 things that the world tells you are TRUE.
Wait to FEEL Ready

Trust is EARNED

Giving is BETTER than Receiving and

Hard Work is the KEY to Success
If you can shift your beliefs on even one, your life will change. If you can pull off all four… Holy Fireworks Mama!
I am a Counter-Intuitive, Foundations Coach. No. You have not heard of that before. What does it mean? It means that I teach the Counter-Intuitive because if it was obvious, you'd be doing it already!
Second, I'm a Foundations Coach, meaning that if you have a problem I'm not going to go after that problem directly-I'm going to go after the things that are holding it in place or preventing you from shifting it (blocks). Most people have incorporated their blocks into their core self (foundations). That taints everything you try to do over and over. Familiar?
Now, on to Counter-Intuitive Life Changer #1: 
When you feel ready, you can…
Alpha Life Coach Teaches:
STOP! Ready is NOT A FEELING.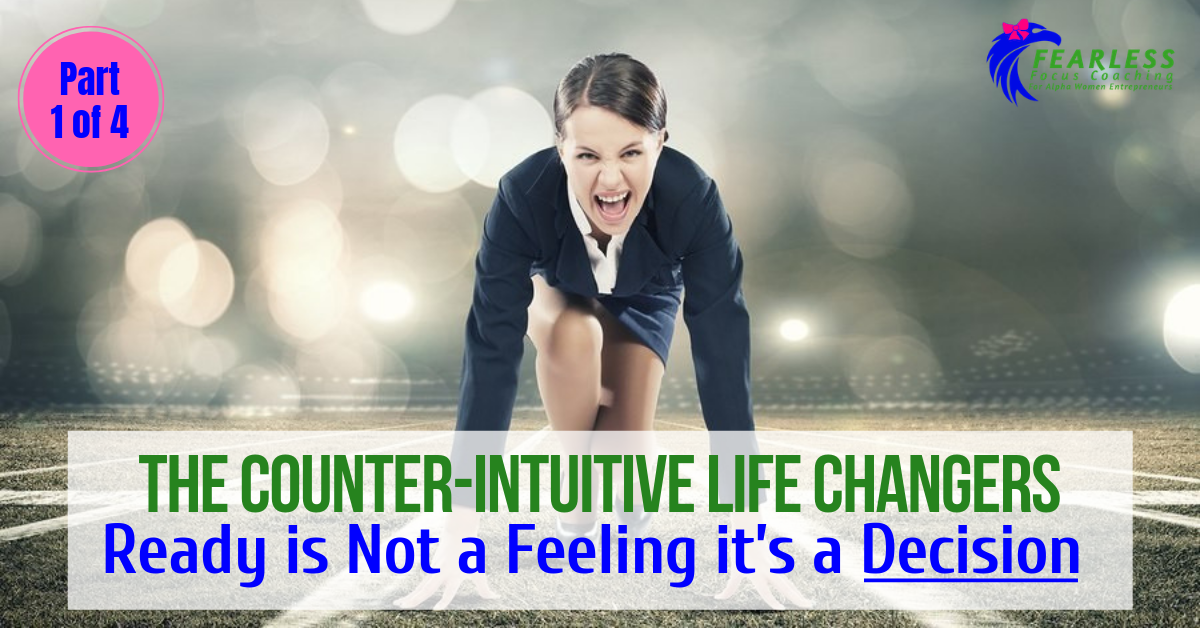 ---
Ready Isn't Feeling-It's a Decision.
I'm going to repeat that because it's the most important thing someone has told you in a very long time. Ready is a decision. 
There are many people who do not want to hire a coach because they believe "I already know what I need to do."
And yes, that's often true. You know.
What is also often true, is that you cannot make yourself do what you already KNOW you must do.
The excuse is: "I'm just waiting to be ready…"
Scroll up. Ready isn't a feeling, it's a DECISION. An action, not a mood. 
Why are you not further along, brilliant Alpha? Because a deep part of you is waiting for someone/thing outside of you to GIVE you the feeling/impression/momentum or motivation to do what you already know you need to do.
That you must choose readiness before you "feel ready" is the critical counter-intuitive understanding to have anything new begin in your life. New means change. Change feels uncomfortable. Discomfort keepsyou NOT ready.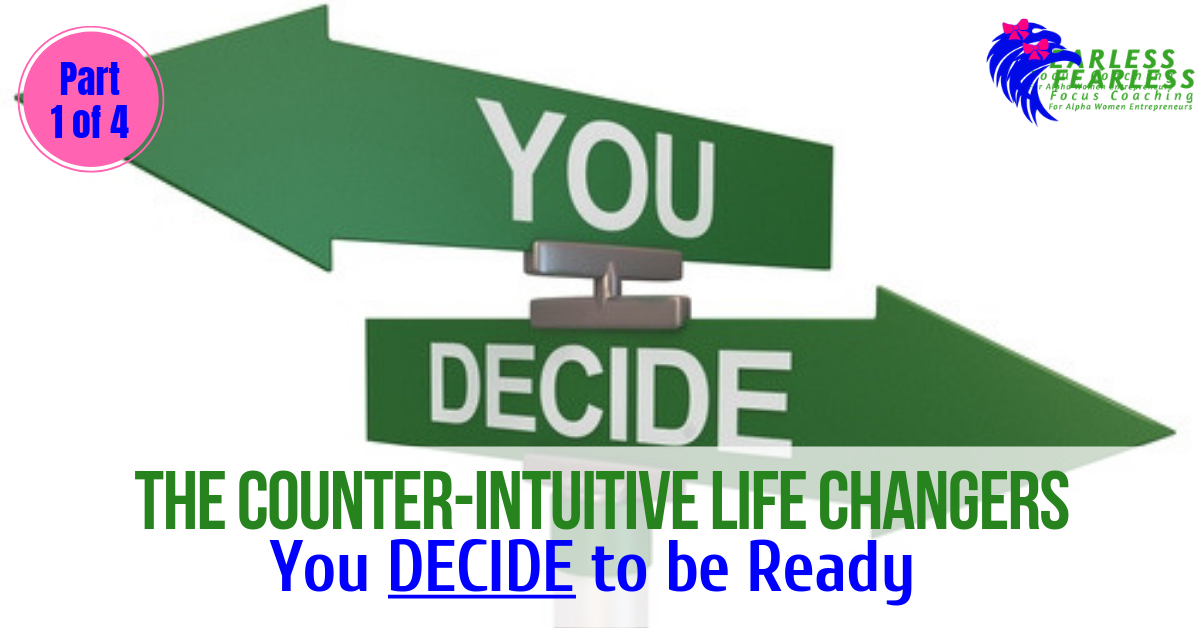 ---
Nike Had It Right – Just DO It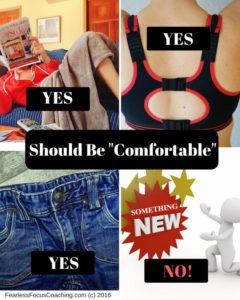 I wish I had a magic formula, but sometimes it is really just gut-check time.You simply have to make your self begin what must be done.
There is an advantage to being able to "manually override" your disinclination to do something. Your ego learns that IT CANNOT STOP YOU FROM STARTING.
Check out this post I wrote years ago about things that SHOULD be comfortable Comfort is My New Curse Word and things that shouldn't be comfortable.
I concluded that only jeans and sports bras SHOULD be comfortable and new things are never comfortable – especially big firsts like driving a car, having sex or using a tampon. 🙂
Your key take away from this training? Stop expecting readiness to just "happen" and feel comfortable. This is why necessity is the mother of invention. Because people needed something done and couldn't keep waiting to "feel ready." They DECIDED to make themselves ready.
When you hear me say Get Ready – it means =
                                   Decide to be ready and then act.
Note for Advanced Readers: Deciding to be ready means aligning your heart before your mind. The proper order is heart first, mind (foot soldier) second, and then thoughts, words and actions FLOW. Make sense?
So… Alpha… Get Ready! The things you MOST need to know in life ARE counter-intuitive. That's why you haven't been doing them!
I'm going to teach you three more… CHOOSE TO BE READY!

---
P.S  When I'm procrastinating something important, I break the log jam by deciding to just do 5 mins. I decide I am READY to start even if I have no clue how to finish or don't feel like it.
You can do a deep dive into why you keep not feeling like it…but sometimes it's best to skip that mess and just get going! Alphas are prone to Analysis Paralysis.

Tanya Stewart is "The Alpha Woman Coach" and began coaching strong women as a Divorce lawyer in her own high conflict law firm 20 years ago. She understands how Alpha women are wired and using her Master's level Metaphysics background and Advanced Clinical Certification in Hypnotherapy, she brings rapid change to people she works with. 
She is a speaker, published author and Mensa member whose coaching is recommended by the World-Famous Motivator, Les Brown, Best-Selling Love Coach Greg Baer and International Change Expert, Dr. Eldon Taylor. She can teach you to separate struggle from success. 
ALL My videos are always on my Vimeo channel HERE 
Find Even More on the Resources page of the website: 
www.FearlessFocusCoaching.com/Resources