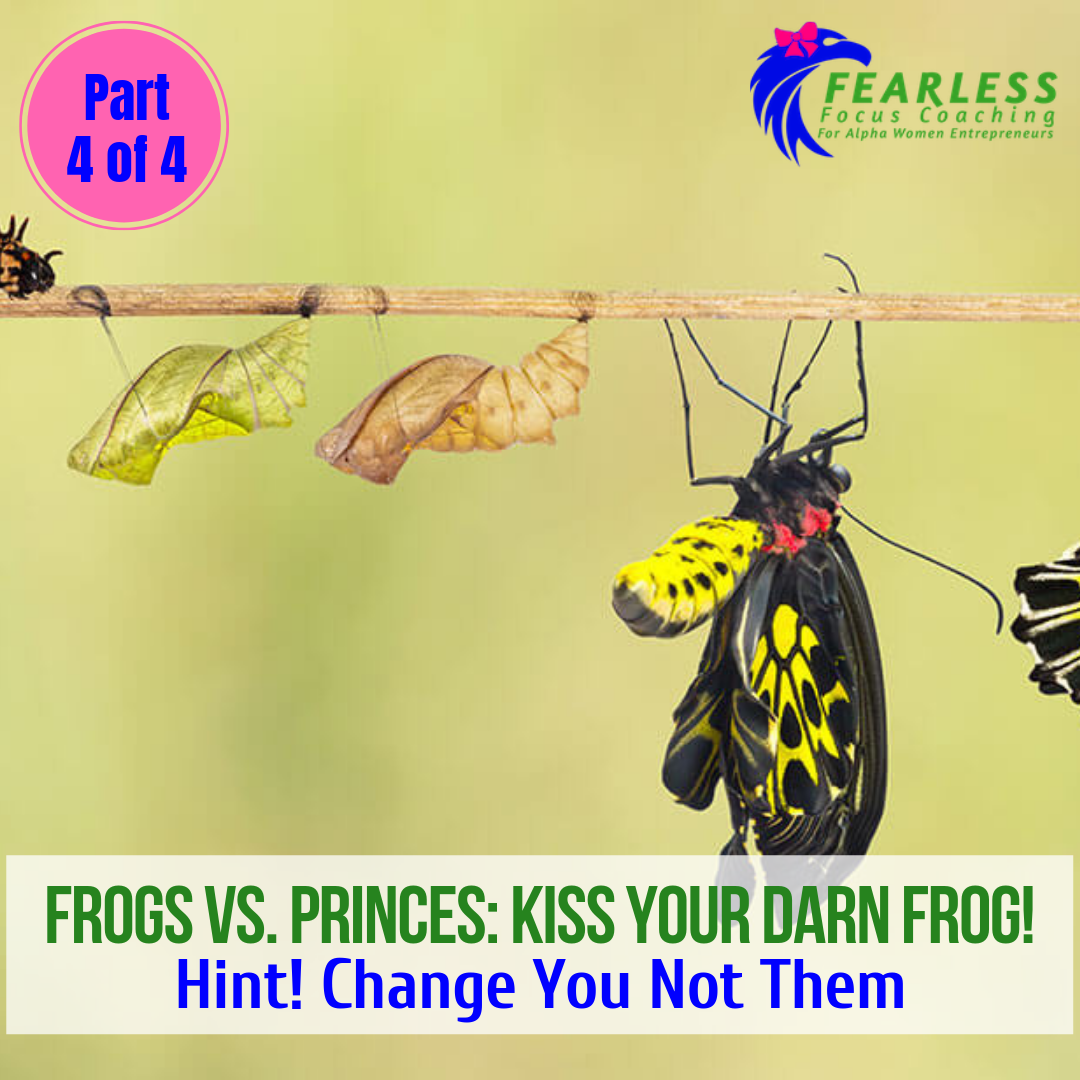 [Alphas] Frogs vs. Princes: Getting That Prince! Chapter 4 of 4

How To Go From F.R.O.G. to P.R.I.N.C.E.
This is such an important topic, I started it last week. So re-read it here:
Critical: YOU are not TURNING HIM from a F.R.O.G. to a P.R.I.N.C.E.
("Frightening but Real Opportunity to Grow" Guy into "Perfect Relationship or Investment Not Common Everywhere). Cannot be DONE.
YOU ARE going to do the three things on the planet you can do that make it way MORE likely he'll turn himself! What are those three things? Read on!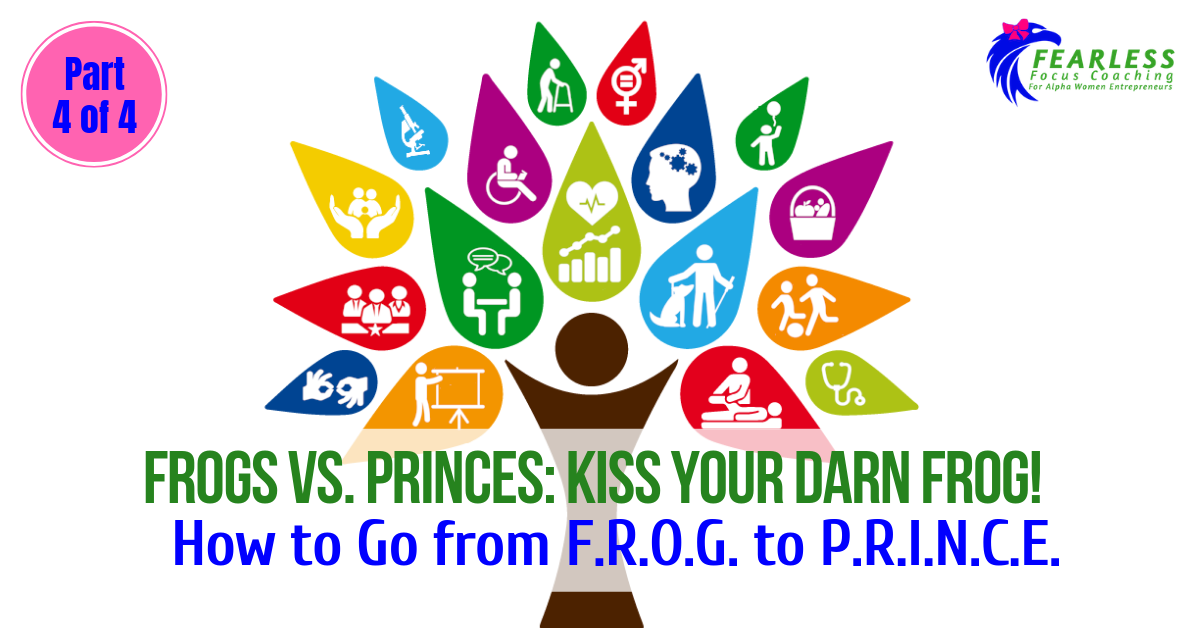 ---
F.R.O.G. -> P.R.I.N.C.E. is Seed -> Flower
Did you ever grow a flower? Good. Then you'll get this. YOU don't force it from SEED to SUNFLOWER. You fertilize, water and weed. That is IT.
First, a quick list of things NOT to do. 
1) You don't get to "build" the seed. Dandelions seeds will NEVER become roses.  Pick better at the start.
2) You don't get to directly control the speed your plant grows. Dig up a seed to "correct" it and let me know how that works for you!  You may not get a Prince in YOUR time frame.
3) You don't get to force the bloom color. Ok, there are master gardeners (forceful Alphas) who can. I am a 21+ year divorce lawyer. Trust me. You don't want to force a man to become what he isn't. 
---
What CAN I Do to Help My F.R.O.G.?
#1 Fertilize – Create a Great P.R.I.N.C.E. Environment
A great P.R.I.N.C.E. environment is a great Princess. Period. Best "you" that you can. Go do that now.
#2 Water – Love Your Frog without Seeing the Prince (Bloom) Yet
Talked about this last week. If you need your manifestations to already BE here before you believe, you're screwed.
Creators decide, believe and release BEFORE evidence arrives.
Anything else is conditional love and cloudy water for your seed.
#3 Weed – Remove the Fearful Thoughts that Stop You From Doing Your Work Independent of Outcomes
This is your task. Will you choose to be happy or be right? (It took me a bit truthfully!) Can you surface all your junk for removal (weeding!) so you just show up and water (love) freely?
If you Fertilize, Water & Weed the Seed you have, you'll get amazing results even if this F.R.O.G. ISN'T a P.R.I.N.C.E.
(or tougher yet, YOUR Prince). 
This is all about love and surrender ladies. Why? Because when you get him, guess what two skill sets you'll most need? Love and surrender. 
Happy Frogging! 
—————————-
Remember a P.R.I.N.C.E. is a
Perfect Relationship or Investment Not Common Everywhere
but YOU are Looking for a F.R.O.G.
Frightening & Real Opportunity to Grow Guy

---
P.S  The timing was perfect to write this for you from a cafe in Ubud, Bali. I wish you love Alphas. The road IS hard but worth it. Anyone who is on their yellow brick road will tell you they don't care one BIT about what it took to reach it and STAY on it.
Frogs rule! Mine battled 3 different power converters and a wonky power cord just so I could teach you today.  He called himself a F.R.O.G. but yeah, he's my P.R.I.N.C.E. now. Do you have yours?
P.P.S. We've worked hard. Next week is all fun! I'll share some wedding, honeymoon and Baby Photos! What? Not my baby! Alexis my assistant had a little boy and he's beautiful. We are both happily distracted!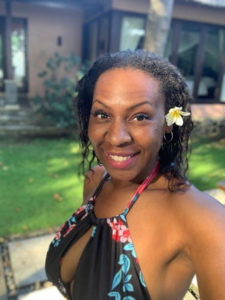 Tanya Stewart is "The Alpha Woman Coach" and began coaching strong women as a Divorce lawyer in her own high conflict law firm 20 years ago. She understands how Alpha women are wired and using her Master's level Metaphysics background and Advanced Clinical Certification in Hypnotherapy, she brings rapid change to people she works with. 
She is a speaker, published author and Mensa member whose coaching is recommended by the World-Famous Motivator, Les Brown, Best-Selling Love Coach Greg Baer and International Change Expert, Dr. Eldon Taylor. She can teach you to separate struggle from success. 
ALL My videos are always on my Vimeo channel HERE 
Find Even More on the Resources page of the website: 
www.FearlessFocusCoaching.com/Resources
[Alphas] Frogs vs. Princes: Getting That Prince! Chapter 4 of 4