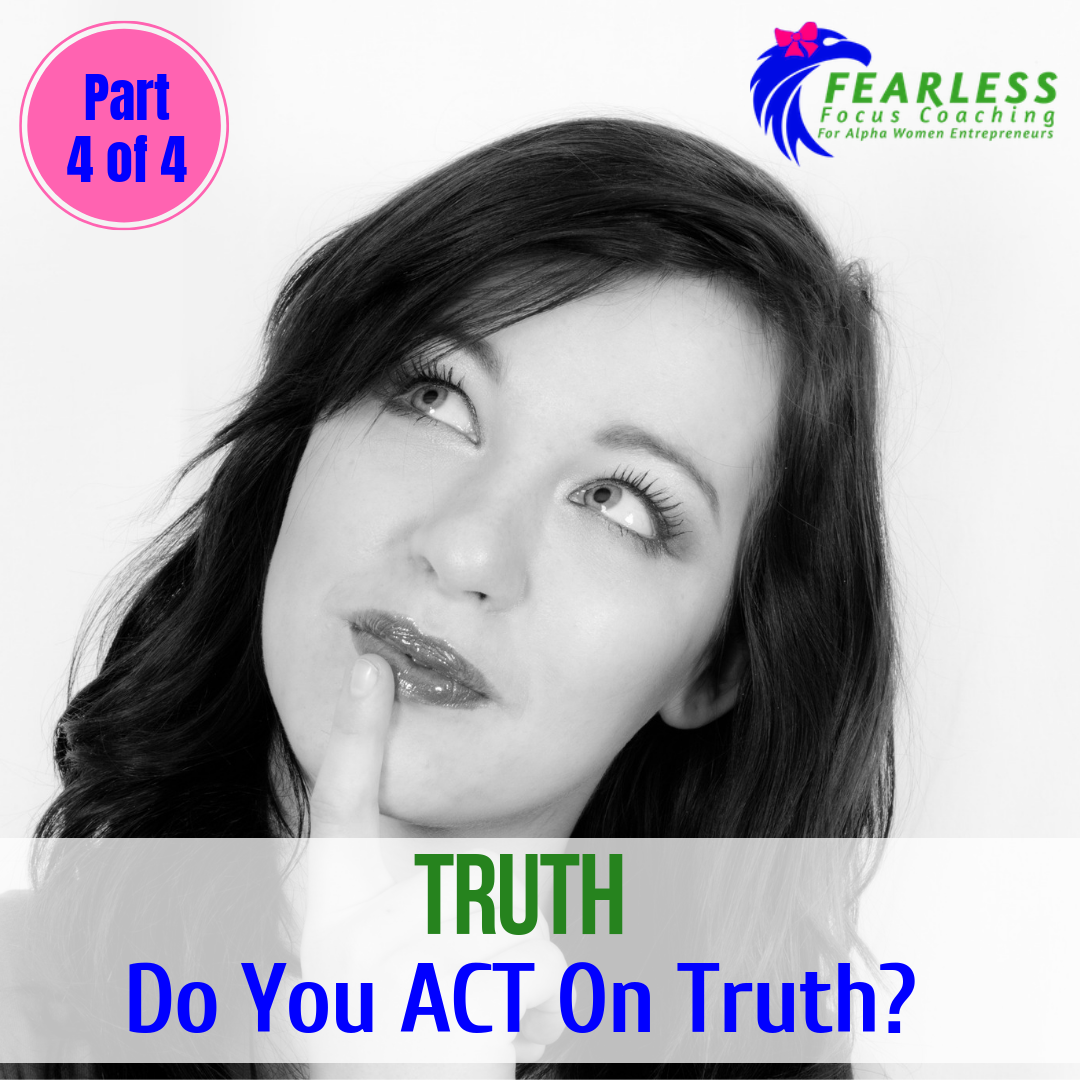 [Tools] The Whole Truth Series 4 of 4 – Acting On The Truth

Ok, So DO Something About It!
If you've been keeping up, you can SEE the Truth, HEAR the truth and TELL the truth but are you ready to ACT ON THE TRUTH?
There are many who fool themselves that that is enough. It's not! Alphas love doing things, so let's take some action today. 
Catch Up on Truth Series Here: SEE The Truth – HEAR The Truth – TELL The Truth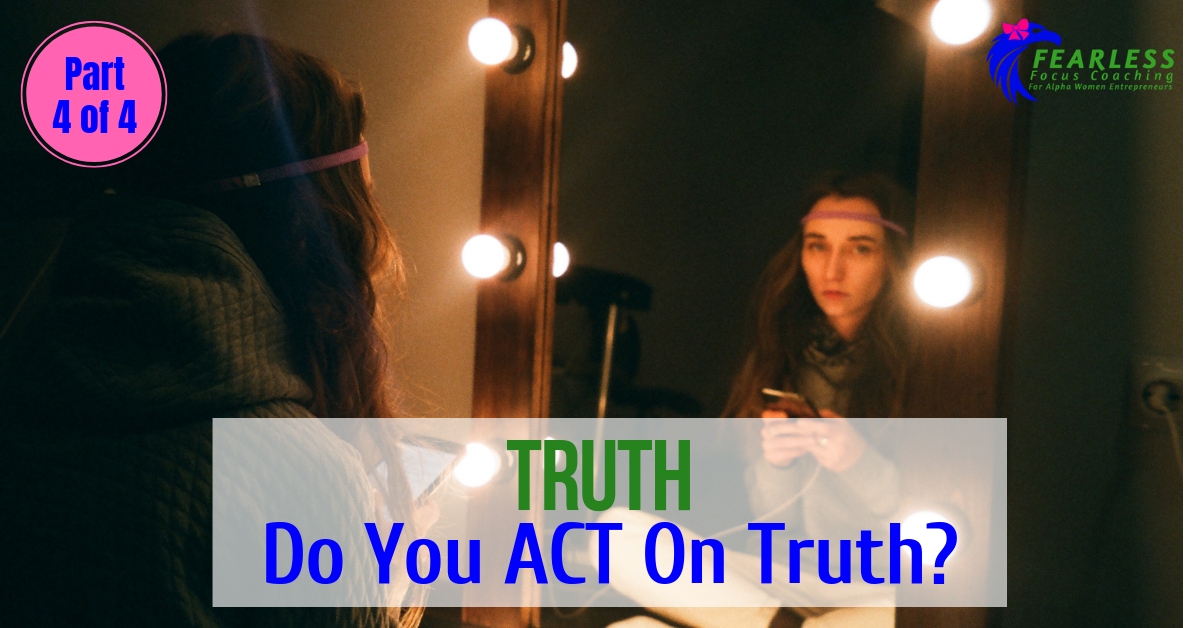 ---
Lights, Camera, ACTION!
There are two main categories of truth that pop up over and over again.
Truth you knew but feared/avoided
Truth you are surprised about
Let's make this very easy. When the truth is something you were fearing or avoiding you need to take bold, MASSIVE action. When the truth is a surprise, you can take cautious action.
Why Bold for What You Already Knew?
Simple. You cannot let your ego's control of you go "unpunished" for lack of a better word. If you timidly act on truths that you knew and were hiding from,you give yourself yet another pass.
You must make yourself SHOW UP FOR TRUTH if you want the laws of truth (love, trust, prosperity) to work for you. When you catch yourself "cheating" there must be consequences!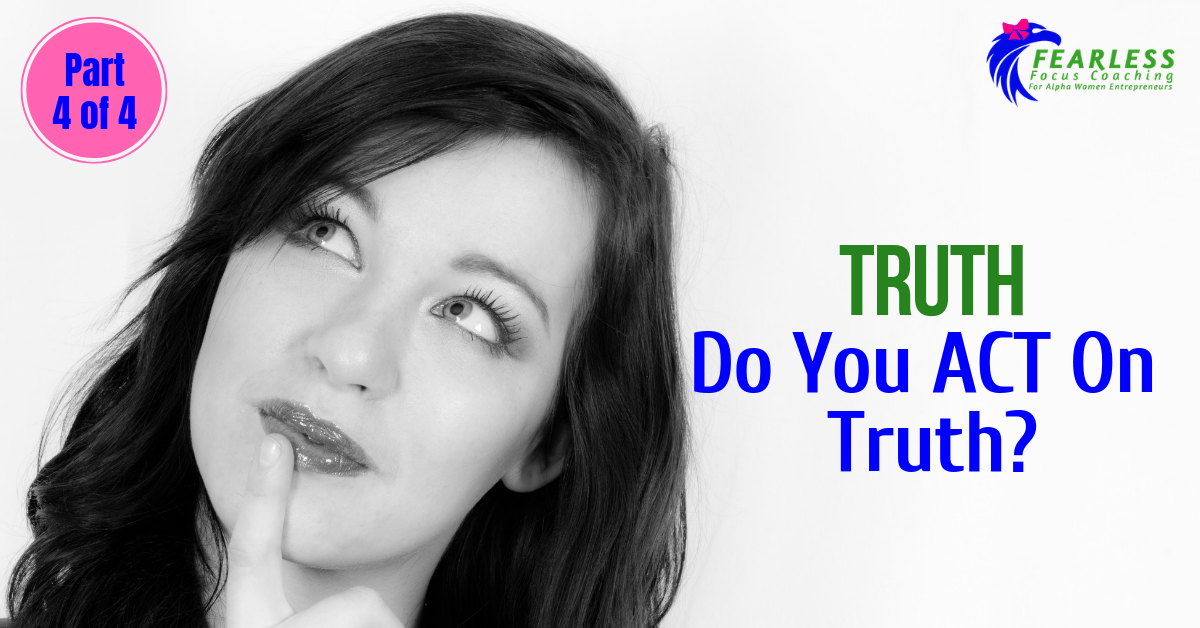 ---
What Does Bold Action Look Like?
In simplest terms, bold or massive action are actions that are VISIBLE and not easily reversible. They mean COMMITMENT. If your action has you solidly committing to a direction, good.
Truth, you've been eating too much sugar with too much sitting. Take Action: Get aggressive. Don't coddle yourself for the start. Cut yourself to zero sugar for 72 hrs (that will get you past the worst of the physical addiction and yes, sugar is physically and psychologically addictive).
Surprise truth? Maybe you learn that you are adopted. That is cautious action. Don't need to leap in with both feet because you weren't avoiding anything. 
I don't need to tell you which action to take. Why? Because truth is funny that way. To stay in alignment with the truth, there is usually 1 clear path to take. That path may not be easy but you'll know what is called for. Do that. Make yourself accountable to truth by taking action.
If you look at yourself today and notice you REVERSE these instructions – bold action when someone/thing surprises you and timid steps toward stuff you've been avoiding, ask me to help you. Coaching is an excellent way to get better with truth because you'll keep hearing it from me. 
In fact, the few clients that were unsuccessful with me have ONE trait, they are truth avoiders. If you avoid truth, avoid me. If you can take it, we'll fix your world.

---
P.S  How you approach the action you need to take will determine how easy or hard that action ends up being!
Have you come out to support the summit I am in? Do that now! PowerChicksLive.com/TanyaStewart

Tanya Stewart is "The Alpha Woman Coach" and began coaching strong women as a Divorce lawyer in her own high conflict law firm 20 years ago. She understands how Alpha women are wired and using her Master's level Metaphysics background and Advanced Clinical Certification in Hypnotherapy, she brings rapid change to people she works with. 
She is a speaker, published author and Mensa member whose coaching is recommended by the World-Famous Motivator, Les Brown, Best-Selling Love Coach Greg Baer and International Change Expert, Dr. Eldon Taylor. She can teach you to separate struggle from success. 
ALL My videos are always on my Vimeo channel HERE 
Find Even More on the Resources page of the website: 
www.FearlessFocusCoaching.com/Resources