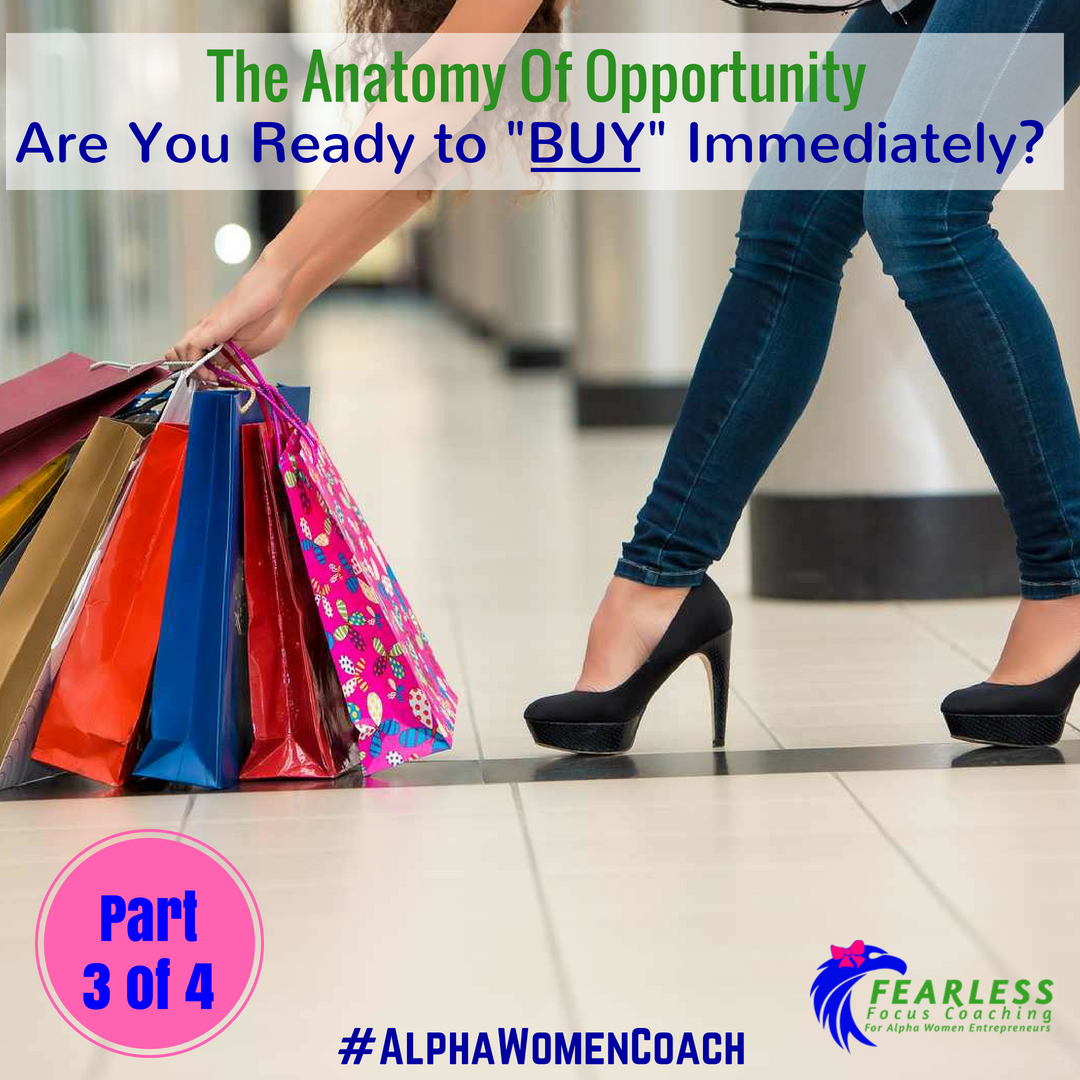 [Clarity] The Anatomy of Opportunity #3 – Shop for It!

Let's Go Shopping!
In our series, The Anatomy of Opportunity, so far we've talked about how YOU can create one. Now we'll talk about opportunities that already exist. This week we want to focus on you DISCOVERING an opportunity. It's like shopping.
Catch Up Here – The Anatomy of Opportunity #2 – Fix One , The Anatomy of Opportunity #1 – Grow One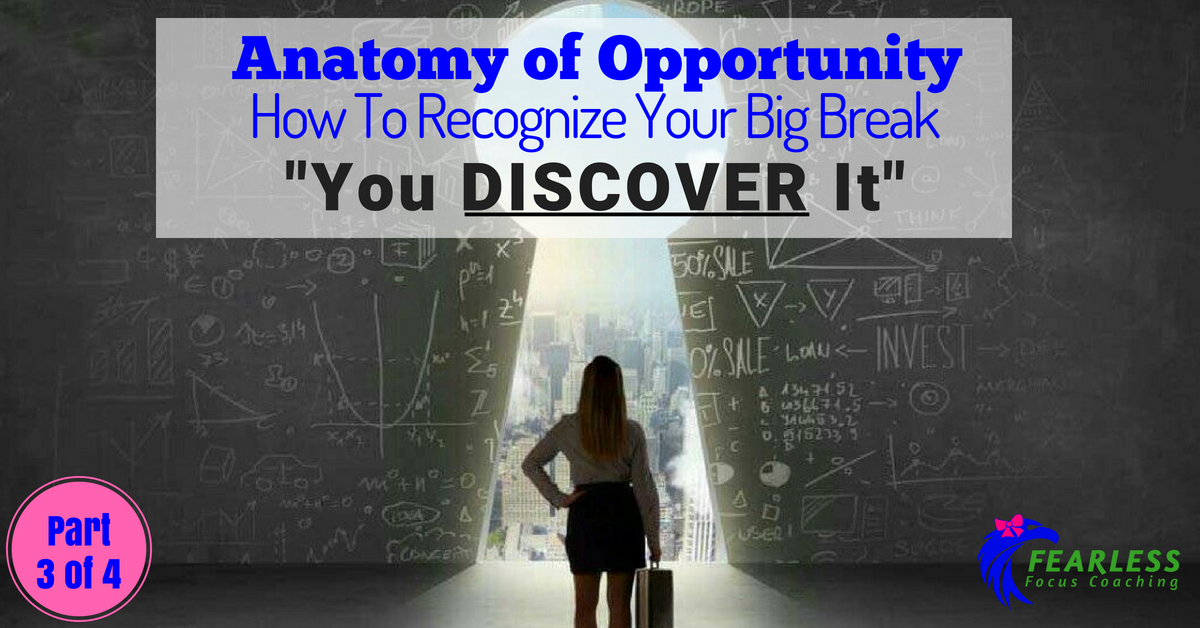 Discovering amazing opportunities requires a mindset shift. It's simple but not easy. Ready? 
Focus the majority of your energy on becoming READY for an opportunity vs. LOOKING for it. Time and again, I have found that opportunities seem to "find" those who have already done the work to receive them. 
But what do we WANT to do?
Go hunt them down of course! Beat the bushes. Ask all your friends. Post like mad on social media. Drag through online job sites with a fine tooth comb.
All of our focus in on the FINDING. What we aren't paying attention to is our ability to BUY. To close the deal. To say "Yes". Put that deal in our back seat and drive home with it.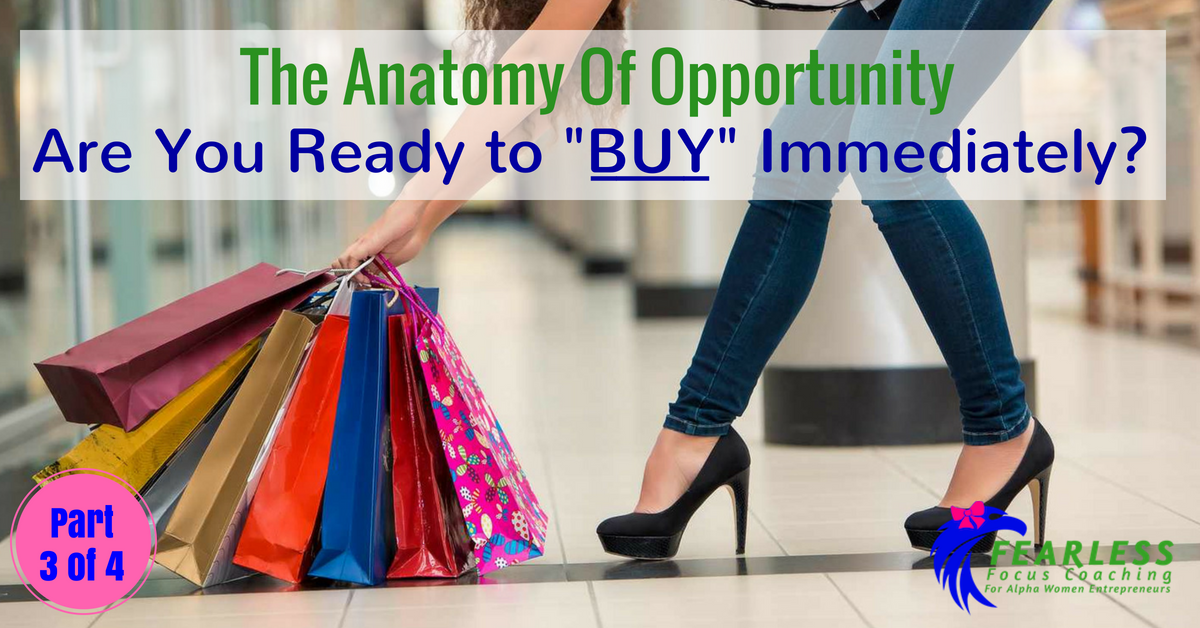 ---
Are You Able to Act Right NOW?
We'll use shopping as our metaphor (just as we used antiquing last week to symbolize taking an idea and restoring it/fixing it up).
Let's assume that you just walked into "Fanciest Store That Pops Into Your Head" and you see…THAT dress. Color? Your favorite. The style makes you look like Marilyn Monroe even if you don't like her. It is a $1,800 dress. It is on sale for $____, some number that is more than you can easily pay but is a ridiculously good deal.
Are you able to act right NOW? And feel free to substitute a coveted domain name, real property or even my year long private coaching as the object of desire. Could you grab it up right now, if the once in the lifetime deal was here?Are you able to act right NOW? And feel free to substitute a coveted domain name, real property or even my year long private coaching as the object of desire. Could you grab it up right now, if the once in the lifetime deal was here?
To shop well, you need to have yourself together BEFORE you go. Do you have time to try things on? Do you have patience to keep looking for the best deal, the best fit? Did you set aside a budget for what you need and a reserve in case the dream opportunity pops up? 
Do your due diligence and budgeting now, before you go looking for your next opportunity. Get yourself ready to receive (yep, big old spiritual precedent for that one called expectation!).
An Opportunity Lost
I was just speaking at conference with royalty and millionaires (it was epic!). One of the most wealthy men there was one of America's top business coaches (who had spent $30K on a private plane to make the meeting). He made an offer to someone who should have said YES instantly and then gone in the bathroom, called her whole family & took out a loan to make it happen. She said she wasn't "ready." (aka She said NO!)
I spoke up and offered to COACH HER INTO READINESS FOR FREE (read that again!) and…she said no to me too! Very politely. She had come there shopping for opportunity and when she found it, on double clearance, in her size she couldn't buy it because she wasn't ready.
The opportunity was READY. And the window for opportunities is typically narrow. She said no and the millionaire moved on.  If the opportunity will sit still and wait on you, it is weaker than you think.
I love dating analogies because we all get them. How long can you leave the perfect man to wait on you?  How long will he sit, single, while you think it over and debate it. How long before your competition spots him and makes him a better offer than you?
If you discovered your big opportunity TOMORROW, what will you wish you already had DONE TODAY?
Go do that now. Prepare yourself to discover what you want.
In Joy,

---
P.S I'm Happy.
I just returned from my roadtrip to Fort Lauderdale to speak & teach at an amazing event. I used all the types of Opportunities. Planting seeds, fixing things that aren't working and I went shopping and found some opportunities to buy. I used the 4th type too! You'll learn what that is next week.
It was amazing to watch people showing up and grabbing opportunities and even harder to see people missing ones. I pulled a few people aside to show them what I could see for them, where they were missing something. That giving led to even more opportunity for me! Hit reply if you need me to do the same and be looking FOR YOU…

Tanya Stewart is "The Alpha Woman Coach" and began coaching strong women as a Divorce lawyer in her own high conflict law firm 20 years ago. She understands how Alpha women are wired and using her Master's level Metaphysics background and Advanced Clinical Certification in Hypnotherapy, she brings rapid change to people she works with. 
She is a speaker, published author and Mensa member whose coaching is recommended by the World-Famous Motivator, Les Brown, Best-Selling Love Coach Greg Baer and International Change Expert, Dr. Eldon Taylor. She can teach you to separate struggle from success. 
ALL My videos are always on my Vimeo channel HERE 
Find Even More on the Resources page of the website: 
www.FearlessFocusCoaching.com/Resources