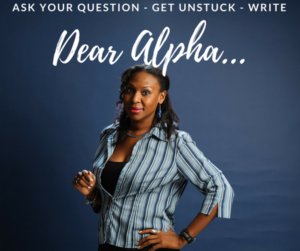 [Live Call] The "Dear Alpha" Call is NYE 2pm EST – Write Me NOW & Get Unstuck for 2018

"Dear Alpha…" is Waiting for YOUR Questions!

On NYE at 2pm EST I'll be on Zoom (like Skype but better) live answering the questions you've sent me! 

Talk about turning Lemons into Lemonade. This idea was born of my decision to fix something I hadn't broken and now I am EXCITED ABOUT IT! 

If you've got afternoon plans move them, if you can you'll want to be on the call live.  

Hit reply right the hell now and send me YOUR issue. Do not wait for more "clarity" on it. Do NOT think you have to refine it before you ask for help (we all get the urge to clean before the cleaning help arrives! I've sooo done that).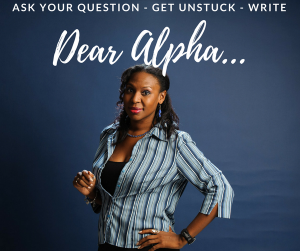 It's a SABOTAGE PATTERN. You don't wait to "feel better" BEFORE you go to the doctor to share your symptoms.Just type the story as best you can and feel free to start in the middle – don't waste time trying to start in the beginning.

The best question I've gotten so far from "Y" is nearly a page long and I WILL help her (it's juicy!!). 

Can you ask on the call? Maybe. Depends on how we are doing on time. First priority to those who made time to write to me!

What can you ask? Umm. What's in your way? I'm excited to see where my Alphas are stuck, so bring it. Gauntlet officially is thrown down. Will you accept my challenge to ask for help or will you keep reading free stuff and winging it??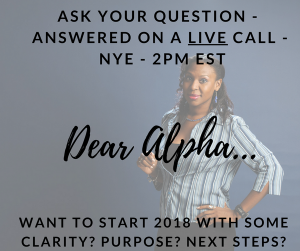 "I have plenty of time to turn my life around on my own…"

You'll kick yourself if you miss it….


Topic: "Dear Alpha…" Get Me Unstuck Call

Time: Dec 31,2017 2:00 PM Eastern Time (US and Canada)

Join from PC, Mac, Linux, iOS or Android: https://zoom.us/j/850225518

Or Dial Telephone:
United Kingdom: +44 (0) 20 3695 0088

---
P.S. It's not too late to send YOUR block! Email what's holding you stuck to [email protected]



P.P.S. 

I had a wonderful Christmas 🙂 I cooked and bake and played and movie binged…

I have been perfecting my intermittent fasting technique! Who LOST weight over Christmas while eating happily?? Let me know if you are curious about Alpha Group Coaching starting in the Spring!
The last
group lost weight on top of making bonuses, supercharging marriages and getting clarity
on
their life!

I Show Alph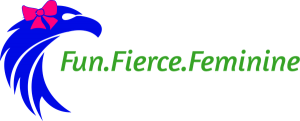 a Women Entrepreneurs How to Stop Struggling in Your Relationships, Own Your Potential, Build Your Business and BALANCE IT ALL.
---
[Live Call] The "Dear Alpha" Call is NYE 2 pm EST – Write Me NOW & Get Unstuck for 2018